Xuezhen Dolomite Ore Mining and Processing Project for Aggregates (hereinafter referred to as "Fuping Project") is a project of Fuping Zhonghao Building Materials Co., Ltd. of Shaanxi Coal Chemical and New Material Group. The Project is located in Fuping County, Weinan City, Shaanxi Province, and is a key project that integrates investments of government and state-owned enterprises. NMS Engineering Co., Ltd. (hereinafter referred to as " NMS Engineering "), a wholly-owned subsidiary of Nanchang Mineral Systems Co., Ltd. (hereinafter referred to as "NMS"), has been providing ore processing and operation services, including a complete set of crushing and screening equipment produced by NMS, for the Fuping Project since 2019.
Introduction Video of Fuping Project
With a mining area of 0.4 sq.km., a reserve of about 100 million tons, and a service life of 27 years, the Fuping Project is located in Wangma Village, Xuezhen Town, 29 km northeast of Fuping County. The Project is built and managed by Fuping Zhonghao Building Materials Co., Ltd., a subsidiary of Shaanxi Coal Chemical and New Material Group Co., Ltd. (hereinafter referred to as "Shaanxi New Materials Group"). The General Contractor of the Project is Sinohydro Bureau 9 Co., Ltd.
According to the general requirements of "resource integration, aggregate emissions control, industrial transformation and upgrading, energy saving and emission reduction, clean development and environmental protection" raised by Shaanxi Province, Shaanxi New Materials Group has vigorously developed the comprehensive development and utilization projects of limestone resources, and has successively invested in the integrated development projects of limestone mines for aggregates in Pucheng, Fuping, Jingyang, Chunhua and Qianxian, etc. It is the first large-scale coal and chemical industry group in China that has transformed its business to aggregate processing, and its aggregate production line has become a model project for local governments in Shaanxi Province. Among these projects, the Fuping Project is a "green sample" in terms of green mine construction and ecological civilization, and sets a good example for the transformation and upgrading of the gravel aggregate industry in Shaanxi Province.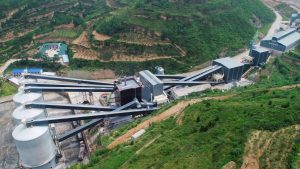 Site of Fuping Project
NMS empowers Fuping Project with a complete set of NMS crushing and screening system
After several rounds of surveys and communications, Shaanxi New Materials Group finally chose NMS as its exclusive supplier of aggregate production equipment, and purchased a complete set of NMS crushing and screening equipment on the basis of its trust in NMS products and services and its recognition of the brand of NMS. The system includes 2 grizzly feeders, 2 JC jaw crushers, 2 CC hydraulic single-cylinder cone crushers for secondary crushing, 3 CC hydraulic single-cylinder cone crushers for tertiary crushing, one VS vertical shaft impact crusher and 5 YKR heavy-duty circular vibrating screens.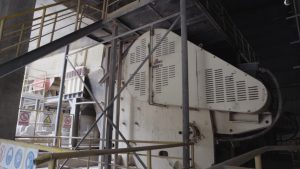 NMS's JC jaw crusher used in Fuping Project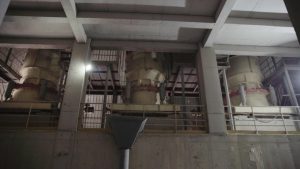 NMS's CC hydraulic single-cylinder cone crusher used in Fuping Project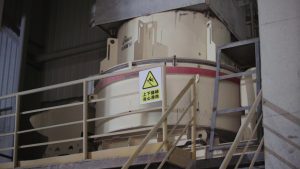 NMS's VS vertical shaft impact crusher used in Fuping Project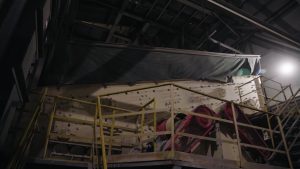 NMS's YKR circular vibrating screen used in Fuping project
At the site of Fuping Project, the primary crushing workshop, the semi-finished product stacking shed, the secondary and tertiary crushing workshops, the screening workshop and the finished product silo are arranged from top to bottom according to the material conveying direction.
The feedstock of the production line is dolomite ore, which is firstly transported to the feeder by mine car, and then conveyed to the JC jaw crusher for primary crushing. The JC series jaw crusher produced by NMS has a symmetrical crushing cavity, a wedge-type discharge port adjustment system and a reliable heavy-duty moving jaw assembly, and is featured with high output, large crushing ratio, low wear rate and large feed size.
After primary crushing, the stone is crushed down to the size about 260mm, and is then sent to the secondary crushing workshop by belt conveyor. Two CC400 single-cylinder hydraulic cone crushers are used in the secondary crushing workshop. According to the theory of lamination crushing and the wear characteristics of the cavity wall, the cavity of the CC single-cylinder cone crusher is designed into a curved shape, which has the characteristics of large output, high product quality and low wear cost. The equipment is equipped with overload protection, automatic control and reliable hydraulic lubrication systems, which can meet the requirements of different ores and working conditions, and can automatically adjust and protect the equipment when the crushing cavity is full of ores, and ensure the smooth operation of the equipment.
After secondary crushing, the stone size is further reduced to 100 mm. And then it will receive tertiary crushing and enter the primary screening workshop and the gravel shaping and sand making workshop. The shaping is mainly carried out in the VS vertical shaft impact crusher. NMS's VS series vertical shaft impact crusher is designed with waterfall overflow crushing chamber, deep cavity type rotor, centering feeding port, multi-stage closed air circulation, etc., thus ensuring reliable equipment operation, simple maintenance and low production cost.
Finally, the particles enter the secondary screening workshop and the sand grading workshop for processing. The YKR heavy-duty circular vibrating screen used in the screening workshop is a reliable and efficient mature product. It is a member of the YKR/ZKR series vibrating screens produced by NMS, one of the drafters of many national and industrial standards for screening equipment with many years of experience in screening machine application. The YKR vibrating screen is designed with an external block eccentric vibration exciter, which is easy for installation and replacement. The cutting-edge timing belt structure with a low weight is adopted on the screen, making it easier for maintenance. Another feature of the screen is that it is supported by rubber springs, which have a long service life, making the machine suitable for screening various ore aggregates.
After being processed by NMS equipment, the original stone become finished products of five sizes: 20-31.5 mm, 10-20 mm, 5-10 mm, 3-5 mm and 0-3 mm. The finished products have uniform grain size and good grain form, which are essential for the construction of buildings, highways, railways, etc. Among them, the finished products of 20-31.5mm can be used for construction of infrastructures such as airports, highways, railways, buildings, etc. The finished products of 10-20mm can be used as commercial concrete and high-strength concrete for civil and industrial buildings. The finished products of 5-10mm, 3-5mm and 0-3mm can be used in utilities, transportation, port, bridge, water conservancy and other fields. Up to now, the NMS equipment has brought great economic benefits to customers.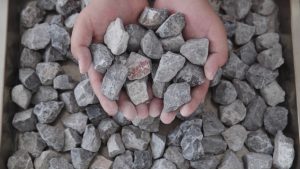 20-31.5mm Finished Products
10-20mm Finished Products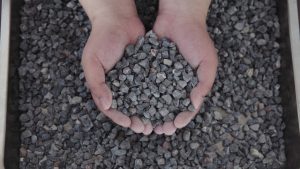 5-10mm Finished Products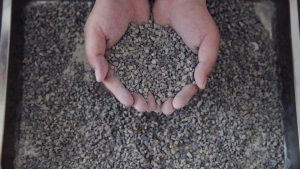 3-5mm Finished Products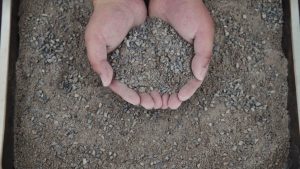 0-3mm Finished Products
Professional service + superior equipment won customer's recognition
NMS Engineering is dedicated to providing sustainable solutions and full life-cycle services for the Project's implementation, delivery and service and ensure the reasonable crushing and screening processes in the Project. The services provided by the company mainly include consulting, maintenance, operation, upgrade, remote assistance, training and spare part/wearing part provision.
According to NMS Engineering's production and operation staff in Fuping Project, when the company started to provide ore processing and operation services for the Project in 2019, the first difficulty faced by the company was to make the production system reach the required output and quality. Through professional evaluation, NMS Engineering identified risks in the Project and reduced the gap in performance of different equipment. At the same time, it conducted comprehensive and in-depth analysis for decision-making and found out the most effective way to improve the project operation status. Through the continuous optimization and rectification on the whole production line, NMS Engineering 's operational staff have solved all the above-mentioned problems in only one month. They have ensured the Project's smooth operation and optimized its production flow, making the Project reach the required output and quality. They have also found effective ways to continuously improve the Project's operational performance as well as safety, reliability, operating rate and productivity.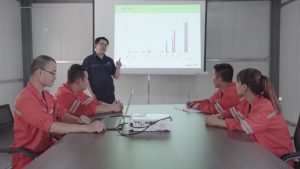 Work Analysis Meeting at Fuping Project Site
NMS Engineering attaches great importance to workplace safety. It has set up real-time monitoring devices at site, and allocated special staff for monitoring the running status of all equipment. It also implemented the emergency plan of "early detection and early treatment" to avoid disturbance in production.
NMS Staff Monitoring Equipment Status in Central Control Room
In order to realize green production, NMS Engineering also provided environmental protection equipment such as dry fog dust suppression equipment and dust collecting tank system according to the terrain and environment of the Fuping Project's site, which have effectively reduced the flying dust of the production line and laid a solid foundation for the Project to successfully pass the inspection and acceptance in terms of environmental protection.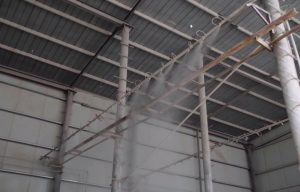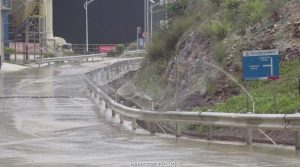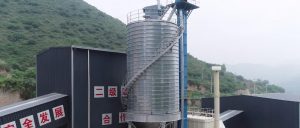 Environmental protection equipment on site effectively suppresses dust
"We have been cooperating with NMS for a long time, and its products and services are very reliable. In Tibet Dagu Hydropower Project, they provided us with excellent equipment and brought us high economic benefits. In Jingyang project, when the wrong parameters of cone crusher caused failure, they rushed to the scene for treatment at the first time, showing their great sense of responsibility to customers," said Ren Mingju, Contractor's Chief Equipment Engineer of Fuping Project.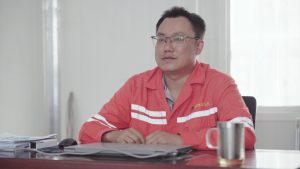 Ren Mingju, Chief Equipment Engineer of Fuping Project from Sinohydro Bureau 9 Co., Ltd.
As a quality benchmark in the industry, NMS offers its customers superior quality products and services to meet their high-end demands, and is committed to the research of ore and aggregate processing technology, engineering design, product development, equipment manufacturing, engineering contracting and production operation. It wholeheartedly provides customers with all-round and efficient ore and aggregate processing and operation solutions.
In the future, NMS will continue to give full play to its technological advantages to provide excellent equipment and professional services for customers, and work hand in hand with suppliers of high-quality sand and gravel aggregates to make greater contributions to the green transformation and upgrading of the sand and gravel aggregate industry.
On the basis of its mission of "sustainably utilizing natural resources on the earth", its team of talents and its core values, NMS Engineering will continue to focus on providing sustainable life-cycle solutions for customers, helping customers obtain ideal return on investment, minimizing the impact on the ecosystem and achieving win-win cooperation.