From April 9 to 11, the 3rd flotation theory, process and equipment technical seminar was held in Changsha City, Hunan Province. Nanchang Mineral Systems Co., Ltd. (hereinafter referred to as "NMS") participated in it as sponsor. During the seminar, NMS won the title of "top 10 equipment suppliers" of the most network popularity of the 2nd MCC nonferrous technology platform.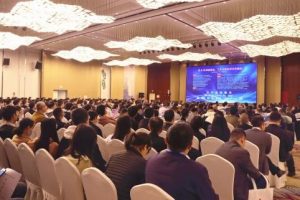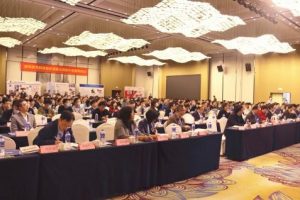 Photos of the seminar
Jia Mingxing, Director of the Nonferrous Metals Society of China was giving a speech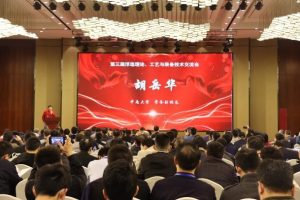 Hu Yuehua, Executive Vice President of Central South University was giving a speech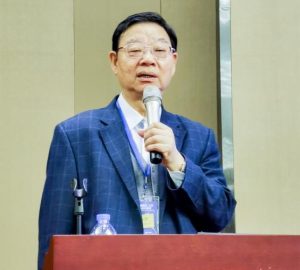 Sun Chuanyao, Academician of Chinese Academy of Engineering was giving a speech entitled Words for Young Mineral Processing Workers
The awarding was held at the opening ceremony of the seminar, and NMS won the title of "top 10 equipment suppliers" of the most network popularity of the 2nd MCC nonferrous technology platform, which fully proves that technological innovation, product quality and professional service of NMS have been highly praised by people in and out of the industry.
NMS advocates "innovation is the life of enterprise" and "product quality is the driving force for the survival and development of enterprise". Therefore, it has set up "innovation day" and "quality day". It strongly encourages innovation and strictly values product quality. At present, NMS has obtained more than 100 patents, and has been approved to establish a municipal doctoral research and innovation center and a provincial post-doctoral innovation practice base.
In order to achieve intelligent, large-scale and high-quality development, this year, NMS and SINOMACH Intelligence Technology Research Institute sign a strategic cooperation agreement to jointly promote the transformation of enterprise from traditional manufacturing to intelligent manufacturing and operation & maintenance service so as to provide more high-quality products and service for customers while improving production capacity.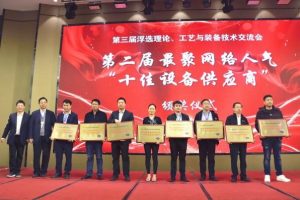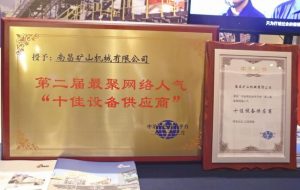 The awarding ceremony
At the seminar, Sun Jidong, Deputy General Manager of Domestic Sales & General Manager of Mining Business Unit of NMS delivered a speech entitled Comprehensive Utilization of Mineral Processing and Advanced Crushing and Screening Technology. In his speech, he said that NMS was committed to R&D, innovation and upgrading of intelligent, large-scale and efficient equipment, it invested a lot funds and introduced high-end R&D talents. While strengthening domestic R&D strength, NMS has set up a R&D center in Sweden to focus on research and development of new high-end products, such as GC5065 gyratory crusher and CC800 single cylinder hydraulic cone crusher, JC2000M jaw crusher, 2MLS4385 banana screen, 3NFS3073 flip-flow screen and other super-large equipment. With the continuous expansion of company brand recognition and market demand, NMS continues to improve and build its sales network home and abroad. Under the increasingly fierce global economic competition, NMS actively explores overseas markets and has set up branches in South Africa, Malaysia, Russia and Australia. Currently, its users are all over the mining, hydropower, nuclear power, stone, building materials, chemical and other industries home and abroad, and the equipment is exported to more than 60 countries and regions, serving a number of global top 500 enterprises!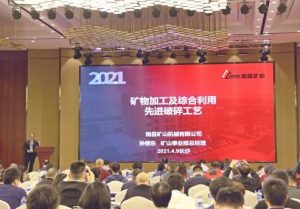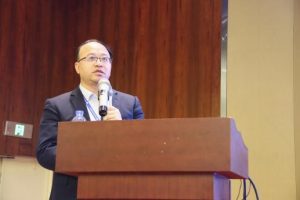 Sun Jidong, Deputy General Manager of Domestic Sales & General Manager of Mining Business Unit of NMS was giving a speech
CC800 single cylinder hydraulic cone crusher, a new product of NMS, is designed on the basis of intelligent manufacturing. According to the principle of material lamination crushing and the wear characteristics of wall to design the curved crushing chamber, that is, the surfaces of moving & fixed cone liners are designed with curved surface so that the crushing chamber will not change due to wear, which ensures large capacity, good product shape and low cost. CC800 single cylinder hydraulic cone crusher is equipped with high-strength frame, new dust-proof system, new overload protection, hydraulic frame disassembly device and AutoRun system. In September 2020, the product was inspected and confirmed as qualified by National Mining Machinery Quality Supervision & Inspection Center. The relevant data after customer's on-site use show that under unchanged motor power, the hourly capacity increases 258.4t, with an increase of 35%, and the economic benefit is remarkable.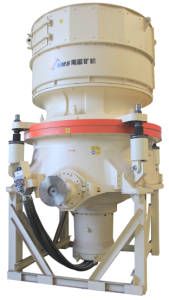 CC800 single cylinder hydraulic cone crusher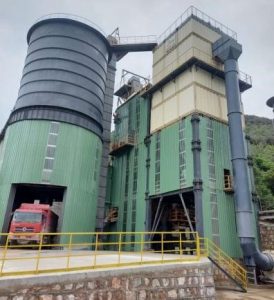 NMS sand-making tower project in Yunnan
Based on more than 50-year experience in the production of vibration screen and crusher, NMS has innovatively launched MSP efficient sand-making tower. The sand-making tower integrates dual-chamber vertical shaft crusher, hydraulic high-frequency screening machine and integrated powder separation equipment. It adopts dry sand-making process, with large processing capacity, high output, good quality finished sand and more reasonable particle gradation, so energy saving and consumption reduction in production process, green environmental protection, low production cost, less manpower and high economic benefit. After being put into use in Yunnan, Anhui and other places, it is well praised by customers.
Sun expressed that NMS will grasp favorable development opportunities, provide advanced large-scale intelligent equipment to meet high requirements to contribute wisdom and strength to the sustainable development of the mine!