On October 15, China Heavy Machinery Industry Credit System Construction Seminar – the 1st AAA enterprise awarding ceremony was held in Changyuan City, Henan Province. Han Zhentang, Chairman of China Heavy Machinery Industry Association (CHMIA), Jing Xiaobo, Executive Deputy Chairman of CHMIA, Wang Jisheng, Deputy Chairman & Secretary General of CHMIA, Wu Xinghua, Secretary General of China Business Credit Union, Zhao Junwei, Deputy Secretary of Changyuan Municipal Party Committee & Mayor, and others attended the seminar. At the seminar, Nanchang Mineral Systems Co., Ltd. (hereinafter referred to as "NMS") was rated as the 1st AAA Credit Enterprise of CHMIA.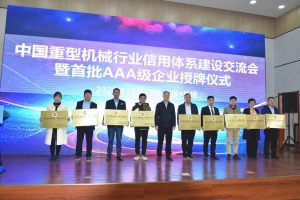 Photo of awarding ceremony
With the development of market economy system and business environment, the construction of industry and enterprise credit system is becoming increasingly vital and urgent. Enterprise credit has become an urgent and necessary general certificate for enterprises to gain a foothold in the market. The event was held by CHMIA, aiming to push the construction of credit system of China Heavy Machinery Industry, prevent credit risk, standardize the market order of the industry, improve credit management and risk resistance of enterprises, and promote sustainable, harmonious and sound development of the industry.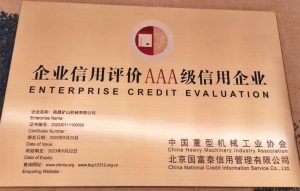 NMS was awarded AAA in enterprise credit evaluation
The credit rating for enterprise is divided into five categories: AAA, AA, a, B and C. AAA means that an enterprise has a very strong ability to perform the contract, a good credit status, a scientific and standardized credit management system, a good sense of social responsibility, a strong ability and willingness to perform relevant contracts, and a minimal risk of default. The credit rating evaluation result of the 1st AAA enterprises will be recorded and issued on the official website of CHMIA, National Industry Credit Public Service Platform and China Business Credit Platform.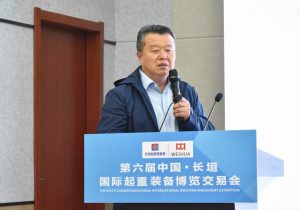 Gong Liangyou, President of NMS was sharing experience in enterprise credit construction
At the seminar, the guests also communicated and discussed on how to improve enterprise credit, prevent credit risk, and how to use credit advantages to enhance the competitiveness of enterprises in the market economy competition. Gong Youliang, President of NMS shared the enterprise credit construction experience entitled "stick to integrity, move towards high-quality development".
The core values of NMS are "integrity, professionalism, innovation, ambition, thankfulness, responsibility, open-mindedness, cooperation". We put integrity first and require every employee to memorize the core values of the enterprise. Every new employee will be tested his familiarity with the core values before they can become a full-time employee. The company is proactively developing Kyocera philosophy internally. Through constant study, every employee will remember the philosophies of "what is right as a person" and "do the right thing", in which integrity is the undoubtedly reasonable principle. Through such measures, we continue to ensure that all employees adhere to integrity and practice it personally.
NMS always abides by the contract and values credit during business operation. In recent years, due to changes in external factors of some contract undertaken by the company, after careful accounting, it is found that perform the contract will lose money. However, in line with value of integrity and in order to establish a good international image of China's private enterprise, we still unswervingly perform all the provisions of the contract.
Meanwhile, NMS adheres to the core values of "thankfulness, responsibility", appreciates the country and the society for their concern and help, and firmly fulfills its commitment to social responsibility. NMS actively responds to and carries out the targeted poverty alleviation actions of "enterprises helping villages". Since 2016, it has provided collective pairing assistance to Tieshu Village, Guhou Town, Ningdu County, Ganzhou City, and Bakou Village, Changjun Town, Anyi County, Nanchang city. In recent years, the total amount of pairing assistance and donation has reached nearly 800,000 yuan. During the novel coronavirus pneumonia epidemic, NMS donated 1 million yuan (500 thousand yuan to the Hubei Red Cross and Nanchang Red Cross respectively) for epidemic prevention and control, which demonstrated its social responsibility.
"Integrity invites friends from all over the world, reputation derives from integrity". As one of the 1st AAA enterprises of CHMIA, NMS will be with enterprises in the industry together to abide by the principle of integrity, strive to be an example of integrity and law-abiding, make joint efforts to promote the construction of credit system of the industry, and continuously strive to realize the high-quality development of the industry and enterprise.