Recently, Nanchang Mineral Systems Co., Ltd. (hereinafter referred to as "NMS") has been officially approved to establish a post-doctoral innovation practice base, which marks that after the approval of Swedish R&D center in 2019 and doctoral research and innovation center in April 2020, NMS will make new breakthroughs in high-level talent cultivation, scientific research development and intellectual support.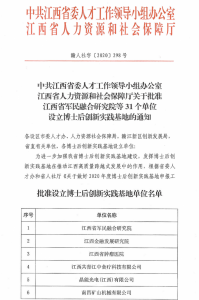 The establishment of the new post-doctoral innovation practice bases is decided by Office of the Talent Leading Group of the CPC Jiangxi Provincial Committee and Jiangxi Province Human Resources and Social Security Department. It aims to further strengthen the development of Jiangxi provincial post-doctoral innovation practice base and exert itself to promote the high-quality leapfrog development of Jiangxi. The approval of post-doctoral innovation practice base of NMS fully reflects affirmation of national governments at all levels for NMS comprehensive strength, especially the technological innovation, scientific research and talent cultivation.
As a new post-doctoral innovation practice base, in the future, NMS will recruit post-doctoral personnel in strict accordance with national and Jiangxi post-doctoral management systems and requirements, ensure the standardization and institutionalization of post-doctoral management and fully exert itself to proactively acquire R&D talents and improve R&D ability so as to promote the combination of industry-university-research and the transformation of scientific research achievements as well as keeping progressing on enhancing R&D innovation capability, pursuing high-quality development and meeting the high needs of customers!