Recently, the MDI high-quality anti-blocking screen panel provided by Nanchang Xinli Wear-resistant Materials Co., Ltd. (hereinafter referred to as "Nanchang Xinli") has been well applied in Yichun Tantalum Niobium Mine Co., Ltd. (before known as 414 Mine, hereinafter referred to as YTNM) of Jiangxi Tungsten Holding Group (JTHG), which has successfully solved mesh blocking and wear resistance that have troubled the customer for many years; and the effect of cost reduction and efficiency increase is obvious, which is well praised by customers.
YTNM was established in 1970. It is the largest tantalum & niobium mining enterprise and tantalum & niobium & lithium raw material production base in China. The deposit contains tantalum, niobium, lithium, rubidium, cesium and other metals. It has the features of good mining conditions, large reserves, various useful metals and high comprehensive utilization value. Its main products are "Yinling" brand tantalum & niobium concentrate, lepidolite concentrate, lithium feldspar powder and other products. At present, its ore processing capacity is 2.31 million t/a, production of tantalum & niobium concentrate (equivalent to 50%) is 350 t/a, lithia mica (equivalent to 5%) is 120 thousand t/a, and lithium feldspar is 1.08 million t/a.
In December 2019, when visiting YTMN, Nanchang Xinli technical staff learned that a 2460 linear screen with mesh blocking which lowered service life and affected the screening efficiency. This problem has troubled YTMN staff for nearly 10 years. To solve it, the customer has used metal punching plate, stainless steel slit plate and TDI polyurethane panel, however, the issue has not been solved totally.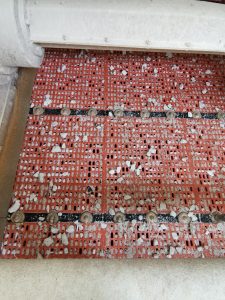 The screen panel that customer used before. 80% of holes would be blocked
and the machine would be stopped for cleaning every 2 hours
Having no choice, YTMN staff planned to use rubber mesh of a famous foreign brand. However, high cost and the long transformation time made them hesitant. At that moment, Nanchang Xinli technical staff provided them with satisfactory solutions, that was, changing the hole from 14x30mm to 12x30mm without modifying the structure of the panel, and changing the ordinary polyurethane panel to MDI double hardness anti-blocking panel manufactured by itself. The scheme was approved by JTHG and YTNM management. Nanchang Xinli and YTNM signed the contract in March 2020 and the panel was installed and put into use on April 26.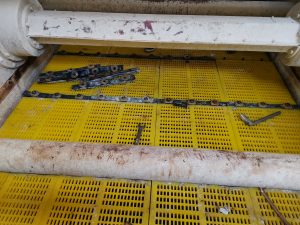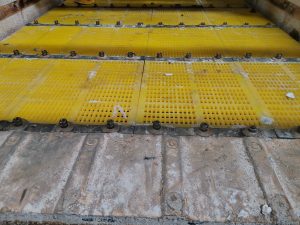 The anti-blocking screen panel was put into use in April 2020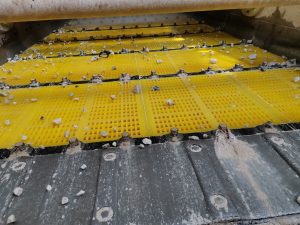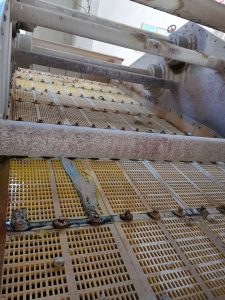 The hole was nearly not blocked when the panel was used 2 months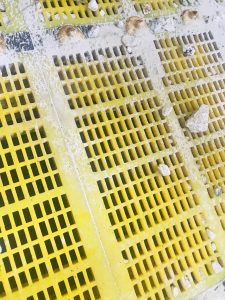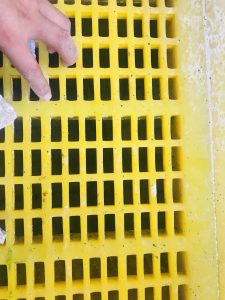 The surface of the panel had nearly no wear when it was used for 4 months.
It was expecting to be used for 1 year.
The MDI high-quality anti-blocking screen panel provided by Nanchang Xinli was in good condition after being used for more than 4 months. It resolved the problems of hole blocking and wear resistant of the screen panel successfully and was highly praised by the onsite staff. The effect of cost reduction and efficiency increase is extremely obvious.
In July, YTNM adopted anti-blocking panel from Nanchang Xinli for its YKR1645 screening machine again, and the effect was great. Moreover, YTNM will try 1x15mm polyurethane anti-blocking screen panel from Nanchang Xinli.
Nanchang Xinli was established in 2006. It is mainly engaged in the R & D, production and sales of various types of screen meshes include polyurethane. The hole of anti-blocking and wear-resistant MDI double hardness polyurethane screen panel developed and manufactured by Nanchang Xinli has high performance and good elasticity, which can maximize the screening efficiency; it is easy to disassemble and assemble, with good wear resistance and high tensile and tear strength. The unique structure and high opening ratio design of the panel can maximize economic benefit and decrease production cost for the customers. As a supplier of polyurethane screen panel, Nanchang Xinli has provided its product for more than 2000 customers. Its wear resistance, anti-blocking performance and screening efficiency have been widely praised by customers.
In the future, Nanchang Xinli will continue to deeply understand customer needs, provide customer with more professional customized service and high-quality products, help enterprise reduce cost and increase efficiency to get the win-win together!