Project Name:  Changjiu (Shenshan) Limestone Mining Project
Location: Chizhou, Anhui, China
Mine: limestone for cement, building stone
Capacity: 70 million t/a
Main Equipment: four CC400M single-cylinder cone crushers, thirty 3YKR3075NJ circular vibrating screens, eight ZKR1230H linear screens and eight FC15 spiral sand washing machines
Technological Process: hammer crushing + cone crushing + screening. The technological process of a two-stage one-closed-circuit crushing and screening process, and finished sand shaping was adopted in production. The production of building stones used a rough crushing workshop and the first screening workshop to form an open circuit to produce most building crushed stones and machine-made sands. The small portion of building crushed stones and machine-made sands were produced in closed-circuit formed by the the medium-fine crushing workshop and the second screening workshop. The fineness modulus of the machine-made sand was adjusted in the open-circuit formed by the third screening workshop and the shaping and sand making workshop. The stone powder content of the machine-made sand was adjusted in the powder preparation workshop.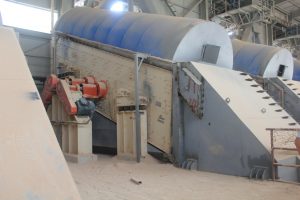 About the Project
It was jointly funded by Power Construction Corporation of China (POWERCHINA), Chizhou Jinqiao Investment Group, Tibet Tianlu Co. Ltd and other enterprises with a registered capital of  1.185 billion yuan and a total project investment of 10 billion yuan. So far, it has been the largest aggregate processing project produced and invested in the sand and stone industry in the world.  A total of 4 sets of "draw shaft + tunnel" processing and production systems were arranged, with a production capacity of 3,100 tons/hour for each system, a total production scale of 12,400 tons/hour, a project area of 4.73 square kilometers, the ore reserve of mined limestone of 1.908 billion tons, the mining scale of  70 million tons/year, and the operation period of 29.5 years.       
Its crushing and screening equipment met the project requirements in terms of production capacity, ease of operation, safety and reliability, and equipment diversity. The noise treatment met the Class II standard in the "Environmental Noise Emission Standard for Industrial Enterprises at Boundary" (GB12348-2008), which requires that the water content of sand production for processed aggregates shall be within the range of 1-5%, powder content of finished sands of 5~15%, and the fineness modulus grading shall meet the sand requirements in the national standard Ⅱ zone. The equipment of NMS has maintained an efficient and stable operation in the application of the stone processing system of the project, with no downtime events during the application, which greatly guaranteed the supply of finished products.