Time flies.
The year 2020 is full of joy, emotion, harvest and tear, has come to an end.
Integrity Professionalism Innovation Ambition
Thankfulness Responsibility Open-mindedness Cooperation
In the past year,
we worked together to fight against epidemic,
bravely bore social responsibility.
We tried our best to sprint and innovate,
sales performance increased steadily.
We are faithful to our original aspiration and continue marching forward.
We take credit as oar and quality as sail,
riding the winds and breaking the waves in the changeable market.
Standing on the new starting point of 2021,
let's review the unusual 2020 together.
Looking back on NMS highlights that can't be erased from the current times.
Ⅰ. Integrity
Resume production. Large mining machinery and equipment was sent to East Europe.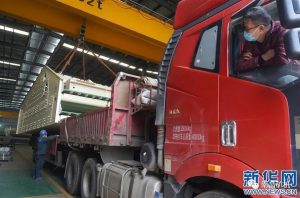 On February 27, 4 screening machines produced by NMS were sent to Serbia. All relevant departments made joint efforts to implement anti-epidemic and production, and finally realized the delivery of the first batch of overseas orders since the resumption of production, so as to ensure customer needs.
Timely delivery, good service. Canadian customer sent regards by email several times.
During the epidemic, NMS overcame a large number of complicated situations, ensured the smooth delivery of equipment and supporting facilities, won the full trust and sincere thanks of Canadian customer, and showed the responsibility of Chinese enterprise in the face of the epidemic and difficulties.
Industry certification, AAA credit enterprise.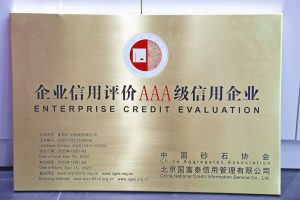 On October 15, NMS was rated as the first AAA credit enterprises by China Heavy Machinery Industry Association; from December 12 to 14, NMS was rated as AAA credit enterprise in China aggregates industry during the 7th China International Aggregate Conference.
Ⅱ. Professionalism
More secure product quality.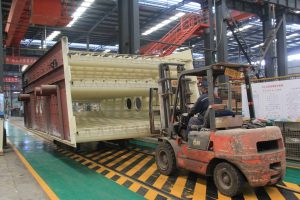 According to statistics, in December, the 1st pass of NMS screening equipment was 100%, and the deflection rate of vibration screen was reduced to 0; NMS product quality improved significantly, and the customer satisfaction reached a new high.  
Jiangxi Mineral Processing Equipment Engineering Technology Research Center passed the acceptance.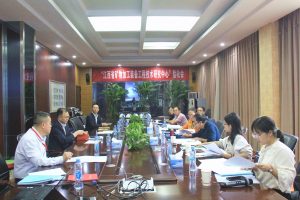 On September 29, a number of experts from Science and Technology Department of Jiangxi Province visited NMS to evaluate the acceptance of Jiangxi Mineral Processing Equipment Engineering Technology Research Center, and NMS successfully passed it.
Selected as the benchmark enterprise of intelligent manufacturing of Jiangxi Province in 2020
NMS was selected as the benchmark enterprise of intelligent manufacturing of Jiangxi Province in 2020. It helps the manufacturing industry to transform and upgrade, and achieve high-quality development.
Elected the 2nd specialized new "little giant" enterprises of Ministry of Industry and Information Technology of the PRC.
NMS was elected the 2nd specialized new "little giant" enterprises of Ministry of Industry and Information Technology of the PRC. It aims to strengthen the cultivation of specialized new "little giant" enterprises, and promote their technological innovation ability, market competitiveness and brand influence.
Ⅲ. Innovation
NMS Doctoral Research Innovation Center and Postdoctoral Innovation Practice Base were approved.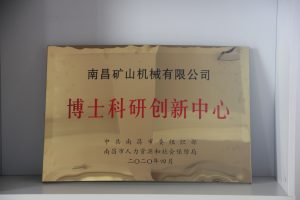 In April, NMS Doctoral Research Innovation Center was officially approved; in September, Postdoctoral Innovation Practice Base was approved. This fully reflects confirmation of governments at all levels on the comprehensive strength of NMS.
Purchased several sets of processing equipment and this greatly improved the production and processing capacity.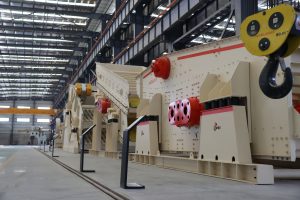 In 2020, the key technology intelligent heavy composite processing equipment was added in No.5 workshop of NMS to achieve an annual output of 2000 sets of screens and crushers, which can better meet the market demand and enhance the core competitiveness of the enterprise.
Organized and held 9.29 Innovation Day.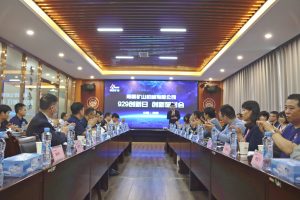 NMS organized and held 9.29 Innovation Day on September 29. On the same day, representatives from relevant associations and enterprises gathered in NMS to discuss the "good recipe" for innovation and development.
Ⅳ. Ambition
Sales volume increased 21%.
In 2020, NMS sales volume increased 21% year-on-year, and the rate was even higher than that of last year. NMS achieved steady progress and high-quality development.
Won a number of Industry Awards.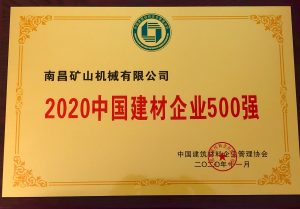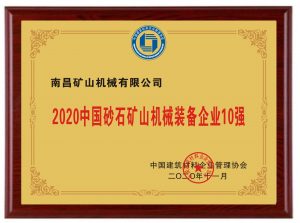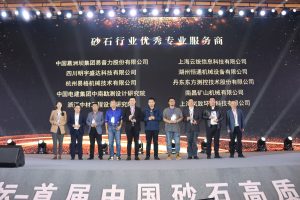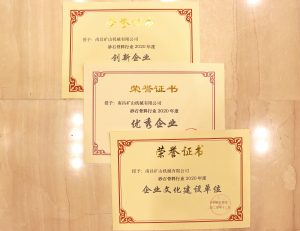 On November 5, NMS was selected as "top 500 building materials enterprises in China 2020" and "top 10 aggregates mining machinery and equipment enterprises in China 2020";
From November 17 to 20, Donghai Forum for Aggregates Industry – The 1st China Construction Aggregates High-quality Development Summit Held, NMS Won the "Excellent Professional Service Provider";
From December 12 to 14, during the 7th China Aggregates Association Annual Meeting, NMS was awarded as "Innovative Enterprise", "Excellent Enterprise", "Advanced Unit of Enterprise Culture Construction";
Ⅴ. Thankfulness
NMS held its 50th anniversary celebration.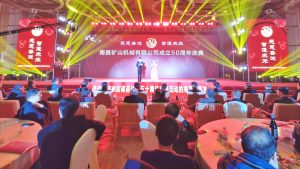 On December 20, NMS 50th anniversary celebration and the annual summary & commendation conference was held in Nanchang. In order to show gratitude to a large number of partners who have long cared for and supported the development of NMS and the outstanding employees, NMS gave them related awards.
Ⅵ. Responsibility
Donated 1 million yuan to support Hubei and Jiangxi for fighting against the epidemic.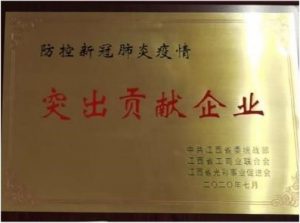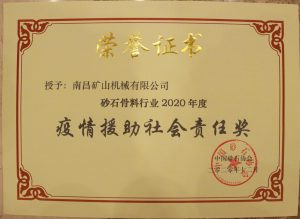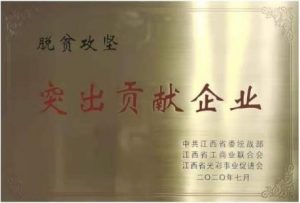 If one side is in trouble, all sides will support. On January 31st, NMS donated 1 million yuan against the epidemic in Nanchang and Hubei. Its actual action showed social responsibilities of the enterprises.
Ⅶ. Open-mindedness
Moscow branch was established officially.
On January 7, NMS Moscow branch was officially established. So far, NMS has set up overseas sales companies in Australia, Malaysia, South Africa and Russia, and the overseas network has formed.
NMS equipment showed in bauma Shanghai.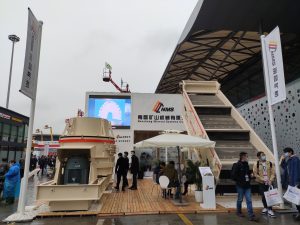 From November 24 to 27, NMS brought two sets of equipment which were VSD dual chamber vertical shaft impact crusher and HFS/V hydraulic high-frequency screen to the fair to fully show its hard core scientific research capability and reproduce the style of China's mining machinery!
Chairman Li Shunshan won "Contribution Award for International Communication and Cooperation" in aggregates industry.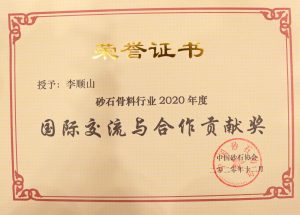 Ⅷ. Cooperation
South Africa AML project commissioning completed as planned.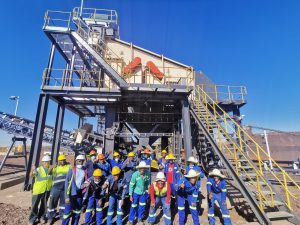 During the epidemic, NMS overseas employees rushed to customer site and worked together. Finally, in December, the commissioning of the project was successfully completed and won customer's gratitude and praise.
Organized and co-organized many industry conferences.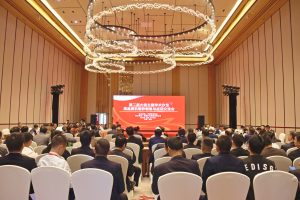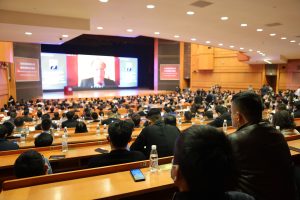 From October 24 to 26, NMS organized the 2nd Large-scale Theme Academic Salon – High-quality Manufactured Sand Preparation and Application Seminar;
NMS successfully held 2020 China Mining Technology Innovation and Applied Technology Forum;
From December 9 to 13, NMS sponsored 2020 (11th) China Mining Science & Technology Conference;
From December 12 to 14, NMS organized the 7th China International Aggregates Conference.
In 2020, the footprints we leave are pursuit, growth and experience.
Thanks for customers' trust, company and support.
Thanks to employees' hard work and diligence.
Thanks to friends who care and support NMS development.
 Endless hope and good luck will come together in 2021.
Let's move towards light, set sail, and create new brilliance!