The advantages of Nanchang Mineral Systems' hard rock processing solution lie in focusing on the sand and aggregate industry for 50 years, thus able to provide more optimized project design scheme and intelligent, large-scale and efficient hard rock processing equipment.
In traditional hard rock aggregate projects, as we all know, due to the limitation of the production capacity and performance of the traditional sand processing equipment, there are many problems in the processing system, such as large number of equipment, complex layout, large floor area, high investment in environmental protection and high unit energy consumption, which has always been a pain point that is difficult to solve in the industry. Based on that, Nanchang Mineral Systems has introduced professional technical experts from mining and engineering design institutes to provide more optimized project design schemes as well as professional services from process selection, project design and construction operation and maintenance, which can systematically solve the problem of equipment matching and effectively reduce the number of equipment and the installed power of main engines.
In terms of mineral processing equipment, Nanchang Mineral Systems' GC series gyratory crushers, JC series jaw crushers, CC series single cylinder cone crusher, MC series multi-cylinder hydraulic cone crusher, HS series impact crusher, VS series vertical shaft impact crusher and various screening equipment have been widely used in many hard rock processing projects. The high-performance GC series gyratory crushers developed by us have reached the advanced level of the industry and has been successfully applied in the Yunfu Project in Guangdong and the Lingshui project in Hainan; CC series intelligent single cylinder cone crusher developed by us is the first products of the same kind in China, among which CC800 has been successfully applied in Gucheng Mining Project. The VS2000 vertical shaft pounding and sand-making machine developed by us has a processing capacity of 800 tons/hour, and its products have played an outstanding role in making Lafarge Cement, Jinrong Cement and other stone crushing projects. The screening machine MOS3675 and high-frequency screening HFS also set a precedent for high-efficiency screening in China.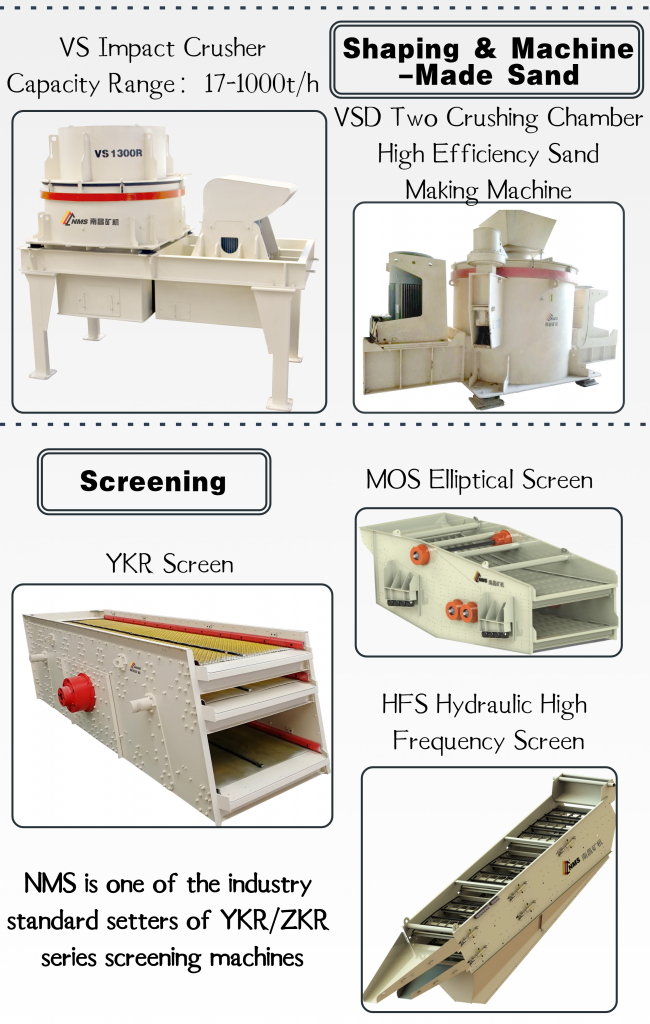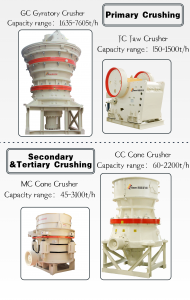 What is the advantage of Nanchang Mineral Systems' hard rock processing solution? Let's take a look at its application examples in some projects of hard rock aggregate processing.
1.Jingyang 1500 tph Aggregate Processing Project of Shaanxi Coal Zhonghao Group
Project scale: 1500 t/h
Rock types: dolomite and quartz sandstone
Project site: Shaanxi Province
Project nature: a key project invested by state-own enterprises for integration under the direction of government
Shaanxi Coal Group is the first large-scale aggregate processing enterprise transferred from coal chemical industry in China. According to the general requirements of Shaanxi Province for "resource integration, quantity control, transformation and upgrading, energy saving and emission reduction, green and environmental protection", Shaanxi Coal Group vigorously promotes the projects of comprehensive development and utilization of limestone resources, and its aggregate production line has become a model project of integration for local governments in Shaanxi Province.
All the main equipment of the project are provided by Nanchang Mineral Systems, including 2 grizzly feeders, 2 jaw crushers, 6 single-cylinder hydraulic cone crushers and 9 circular vibrating screens. The raw materials of the project are dolomite and quartz sandstone, which are high in silica content and difficult to crush. It is required that the equipment has strong wear resistance, stable performance and energy saving. Through intense competition in bidding, the client chose Nanchang Mineral systems as its partner. The equipment has been running stably since it was put into production, reaching the expected output of the project.
2.Zhongqihe 1000 tph Aggregate Processing Project in Gansu
Project scale: 1000 t/h
Rock type: granite
Project site: Gansu Province
Project Nature: a key project of Gansu Province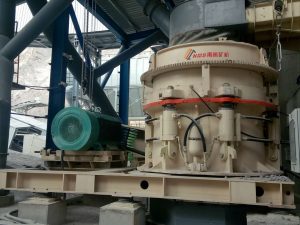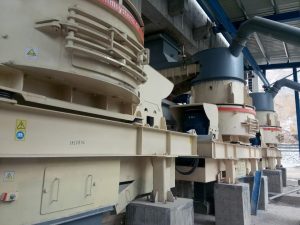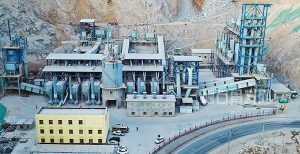 The client has great influence in the local area, and the project was a key integrating engineering of sand and aggregates by the local government as well as a model project of mine integration in Gansu Province.
All main equipment in the project are provided by Nanchang Mineral Systems, including grizzly feeders, jaw crushers, cone crushers, vertical shaft impact crushers, vibrating screens, etc. The  raw material of the project is granite, which has high strength, weathering resistance, corrosion resistance and wear resistance, thus it is difficult to be crushed in actual operation, requiring high equipment performance. After several investigations and comparisons, the equipment of Nanchang Mineral Systems won the favor of the client with its high quality and high performance. Up to now, the equipment has brought great economic benefits to the client.
3.Qinghai 500 wt/a Building Aggregates and Machine-Made Sand Production Line Project
Project scale: 5 million t/a
Rock types: granite and diorite
Project site: Qinghai Province
Use of finished product: building aggregates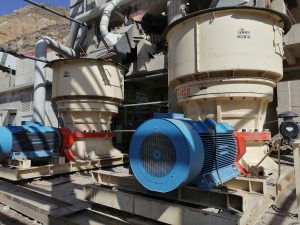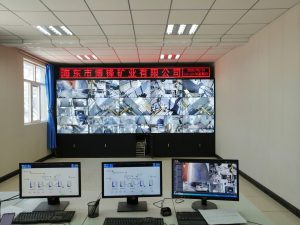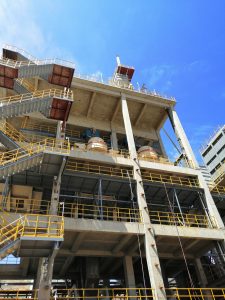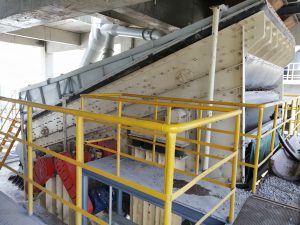 The project site is rich in mineral resources, but the non-planned mining in the early stage resulted in more than a dozen small mines. The resources was not been developed rationally and comprehensively, and the environmental dust pollution was also very serious. In 2018, the equipment of Nanchang Mineral Systems was used to develop the resources orderly, and that not only maximized the value of resources, but also protected the local ecological environment.
Nanchang Mineral Systems provided a complete set of main equipment for feeding, crushing, screening and sand making, totaling 28 sets. The equipment can run safely and continuously under the local poor working conditions and climatic environment, and meets the production needs of the client, and thus effectively saved the production cost of the user. Since the trial production of the project, the local government and leaders from many areas  have visited the site and made positive comments on the integration effect.
4.Mobile Crushing Project of Southern New Materials Co., Ltd. in Fuzhou
Rock type: tuff
Project site: Jiangxi Province        
Use of finished product: building aggregates
The aggregates production line project of Southern new materials co., ltd. is located in Dongxiang district, Fuzhou city, Jiangxi province. The MT1150JC mobile jaw crushing station, MT300CC mobile cone crushing station and MT1860SR mobile screening station produced by Nanchang Mineral Systems are applied to this project. The equipment can not only process high-hardness materials such as limestone, but also can move with the continuous advancement of the mining face. There is no need to move the materials away from the site by trucks, conveyors, etc. for the subsequent crushing operation of the materials, thus it can greatly save the cost and time of materials transportation, and the solution has the characteristics of high strength, excellent performance, compact structure and convenient maintenance.
With high-quality products and professional services, Nanchang Mineral Systems has won the trust of customers. Therefore, in the 45 million t/a sandstone aggregate production line project of Southern New Materials Co., Ltd., the client once again chose Nanchang Mineral Systems as its main equipment contractor, and more than 40 crushing and screening equipment and supporting facilities are expected to be put into use in July 2020.
From stand-alone products to complete product lines, Nanchang Mineral Systems has been walking incessantly for 50 years. From Southeast Asia, Europe, America, Australia to Africa, Nanchang Mineral Systems has developed partners all over the world. From the supply of equipment in the whole product line, such as feeding, crushing, sand making and screening, to process selection, project design, construction and operation and maintenance, there are more things that Nanchang Mineral Systems can offer. On the road of mining, Nanchang Mineral will be conscientious, thinking about what customers think, be anxious for customers, be dedicated and providing the world with excellent product quality and professional service!
In the future, Nanchang Mineral Systems will continue to adhere to technological innovation, create high-quality products, provide better services, and strive to be the best in the mining aggregate industry.
For more details, please call +86 791 8378 2922 to get more information easily!