On the morning of August 2, technical team from Green Construction Aggregate R&D Center of Aggregate Company of SINOHYDRO BUREAU 8 Co., LTD. (hereinafter referred to as "HYDRO BUREAU 8 Aggregate Company") visited Nanchang Mineral Systems Co., Ltd. (hereinafter referred to as "NMS")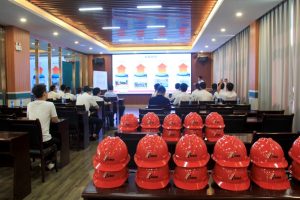 Scene from technical communication meeting
In the technical communication meeting with HYDRO BUREAU 8 Aggregate Company, NMS President Gong Youliang said that even in the early 1990s, HYDRO BUREAU 8, especially the Aggregate Company, was the high-end customer of NMS. In recent years, both sides have been constantly transforming. The rapid development of HYDRO BUREAU 8 has great enlightenment on NMS. At present, NMS has done a lot of technical research work. While promoting the implementation of intelligent manufacturing, NMS is continuously exploring overseas markets to help to achieve the vision of NMS as "international well-known brand".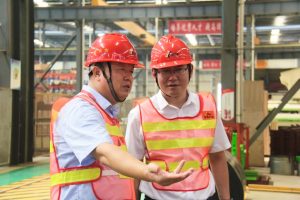 President Gong Youliang is introducing the workshop to Pang Shuai who is Director of HYDRO BUREAU 8 Aggregate Company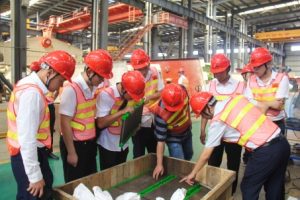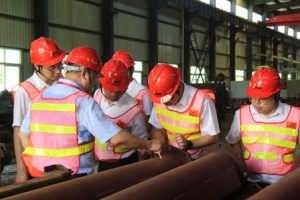 HYDRO BUREAU 8 Aggregate Company technical staff is checking components of NMS equipment
On the same day, HYDRO BUREAU 8 Aggregate Company staff entered NMS's production workshop, and they had a close look of production environment in the workshop. NMS's advanced automatic production equipment, exquisite production technology and large-scale products attracted HYDRO BUREAU 8 staff to stop and watch. Through on-site visit and investigation, technical team of HYDRO BUREAU 8 Aggregate Company had deeper understanding of NMS, and fully praised enterprise's strength in all aspects.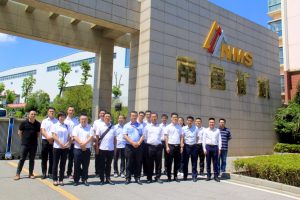 SINOHYDRO BUREAU 8 Co., LTD. is the key enterprise of POWERCHINA Group, which is one of the world's top 500 enterprises, the first enterprise in Hunan Province and the only enterprise of POWERCHINA Group with national "three-special" qualification (general contracting of hydro engineering construction, building engineering construction and municipal public engineering construction). Aggregate Company is a professional company mainly engaged in the exploitation and processing of artificial aggregates and sand of SINOHYDRO BUREAU 8 Co., LTD. Its business scope covers the whole process of artificial aggregates and sand production system design, metal structure manufacturing, system installation, operation management and production and sales. It enjoys a high reputation in the domestic artificial aggregates and sand exploitation and processing industry, and it's known as " Aggregate of Bureau 8, world brand, green granary".
The cooperation between NMS and HYDRO BUREAU 8 has a long history. Since the 1990s, both sides have cooperated in Xia'anxi aggregates near Three Gorges power station. Since then, they have cooperated in many aggregate projects, such as Jin'anqiao hydropower station, Goupitan hydropower station, Baihetan hydropower station, and Anhui Changjiu Shenshan project. The visit of SINOHYDRO BUREAU 8 Co., LTD. to NMS will lay a good foundation for two sides to continue to work together and "build a better life" in the future.