On January 17, 2020, Nanchang Mineral Systems Co.,Ltd (hereunder refer to NMS) has sold  cone crushers to the world's top 500 CRH Group Canada DEMIX Company as scheduled.
On March 11, NMS President Mr. Li Shunshan received an email from Mr. Jean Francois, the Director of Engineering Maintenance of DEMIX.
Good evening Sir,
I hope you are doing well?
Thinking about you and NMS team with the WORLD Health situation… not easy to handle.
Simple to inform you that we hope that NMS and their family are safe and in good health conditions.
Respectfully,
Jean-Francois Houde
Around the Spring Festival, a sudden outbreak of COVID-19 hit the pause button in China, making it extremely difficult for many manufacturing firms to carry out normal production and logistics activities, and also greatly affecting the transfer of personnel. The traditional Spring Festival holiday was hit by the epidemic situation, which made it even more difficult for the equipment to arrive at the Canadian project site and come into use as scheduled. Faced with this tough situation, NMS resolutely chose to proceed with no hesitation.
In the first place, our project team communicated with Chinese, American and Canadian branches of CRH Group proactively. Through full cooperation and careful arrangement, we overcame several complicated situations involved in the project and finally ensured the successful delivery of the equipment and supporting facilities. In addition, in order to ensure the smooth operation of the equipment and to protect the health of personnel to the greatest extent, NMS made a quick decision to dispatch the staff of its Malaysian subsidiary NMS Crushing & Screening Sdn Bhd to the Canadian project site to provide technical advice and service support to the customer. This series of measures not only won full trust and sincere gratitude from the Canadian company of CRH Group, but also exhibited the sense of responsibility of Chinese enterprises in the face of difficulties to overseas customers.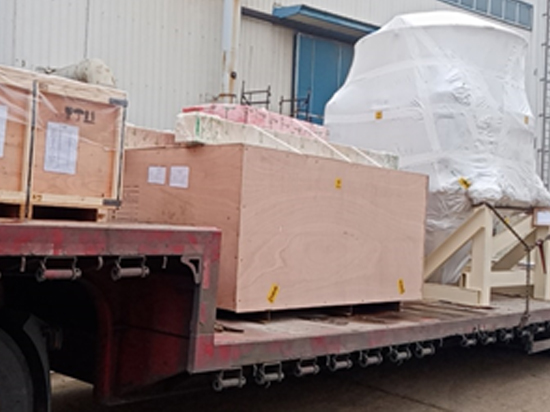 In fact, the cooperation between NMS and CRH Group is far more than this. In the Atlanta, Salt Lake City and Finland projects of CRH Group, multiple modular crushing plant  and cone crushers manufactured by NMS have won the recognition for reliable product quality from CRH Group. The professional and attentive technical support and after-sales service offered by NMS have been acknowledged by CRH Group as well.
As a well-known and righteous company, NMS, like tens of millions of other Chinese companies, is moving forward firmly under the serious epidemic situation. We will take practical actions to fulfill the responsibilities of Chinese enterprises. We hope that we can overcome the epidemic situation as soon as possible and fully resume normal economic and social development.