From Dec. 12 to 14, with the theme of "seek common development and build the future together", the 7th China International Aggregates Conference was held in Wuhan city, Hubei Province. Department leaders from China's national ministries and committees, relevant provincial and municipal government departments, relevant leaders from China's industrial development research institutions, domestic and foreign experts and scholars, and representatives from aggregates industry enterprises attended the conference onsite, while representatives of relevant associations and enterprises from EU, Australia, Canada, South Africa, India, Argentina, Colombia, South Korea and ASEAN countries participated in the conference online through the conference dedicated network. Total 1400 people joined the conference all together. As vice president unit of China Aggregates Association, Nanchang Mineral Systems Co., Ltd. (hereinafter referred to as "NMS") was invited to attend the conference and played a part in organizing the conference.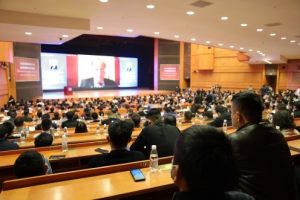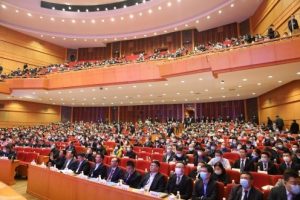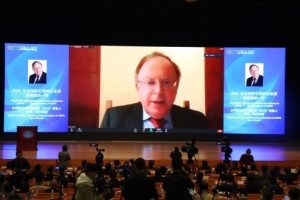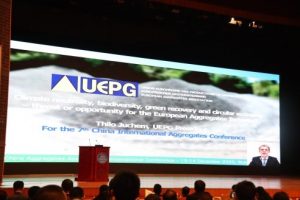 Guests online
Keynote Speech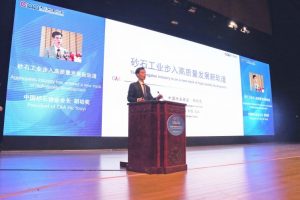 Hu Youyi, President of China Aggregates Association, delivered a speech entitled "aggregates industry steps into a new road of high-quality development". In his speech, he introduced the latest documents and policies issued by relevant national ministries and committees, relevant policies and documents issued by provincial governments to implement guiding suggestions given by national ministries and committees. He analyzed the attention and promotion measures of the national and local governments to the aggregates industry from national and provincial perspectives. He pointed out that during the "14th five-year plan" period, China will optimize the layout of land, promote coordinated regional development and new urbanization, and vigorously promote the construction of new infrastructure, transportation, water conservancy and other major projects, which will provide new opportunities and broad development chances for aggregates and equipment enterprises to expand their domestic market. In the meantime, with "Belt and Road" as the road to globalization led by China, a lot of infrastructure constructions are needed. The most important resources, market and potential are the keys for aggregates and equipment enterprises to "go global" and explore the international market.
Innovation plays an important role in a country and an industry. We should go beyond the old ideas, learn to innovate, dare to innovate, and strive for greater success under the guidance of innovative thinking. The speech introduces digital manufacturing, automatic driving, aerodynamic vehicle, new mobile phone SIM card, cloud mobile phone, street lamp pole for mobile phone wireless charging, space Internet, 6G technology to be developed, typing by computer-brain interaction, nano robot, construction robot, intelligent high-speed rail, house building machine, and innovative cases of high-quality aggregates applied in major projects such as bridges and nuclear power stations, so as to inspire colleagues in the aggregates and equipment industry to provide solid support for the green development and high-quality development of the aggregates industry through all-round brand new ideas and innovation of concepts, science and technology, and mode.
He pointed out that the aggregates industry has its unique advantages, its projects facing mountains, rivers, forests, fields, lakes and grass, fresh air, with birds flying in the sky, animals running on the ground, and fish swimming in the water. It is the best community of life. Aggregates enterprises should make full use of these advantages, take the road of cross-industry integration and development, deeply develop the aggregates and mineral industry, implement the General Secretary Mr Xi's concept that " lucid waters and lush mountains are invaluable assets", build a life community with "mountains and rivers, forests, fields, lakes and grass", protect the ecological environment, work hard on the national infrastructure construction, and make new and greater contributions to the construction of a beautiful motherland!
Opening Speech in Global Forum on High-quality Development of Aggregates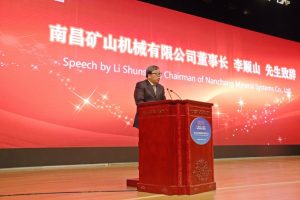 At the opening ceremony, Li Shunshan, Vice President of China Aggregates Association and Chairman of NMS, mentioned in his speech that NMS had a very difficult time of transformation when it was a state-owned enterprise in the 1990s. The enterprise was basically in the state between production and suspension, and employees' salary depended on financial loans. It was in Wuhan city that, with the help of experts from the Changjiang Water Resources Commission, the leaders of the Three Gorges Development Corporation noticed NMS's abilities. The screening products of NMS became famous in the Three Gorges project, laying a solid foundation for NMS to win a good reputation in the crushing and screening for water conservancy and hydropower projects.
NMS has 616 employees today. It has several overseas sales and service companies and has set up a crusher research center in Sweden. Its products are sold to Brazil, Canada, the United States, France, Finland, Australia, Russia, South Africa and other parts of the world. The vision established by NMS, that is, to be quality benchmark of the industry, model of happiness enterprise, international well-known brand, is steadily under promotion.
At the global forum on high-quality development of aggregates, Chairman Li Shunshan gave a report entitled "analysis on the key points of competitiveness building of aggregates production enterprises". In his report, he mentioned that at present, the aggregates industry in China is now under transformation from old pattern to new pattern through closedown, integration and reconstruction. It is an unprecedented time for all kinds of aggregates enterprises to expand larger, invest more and get more industries involved. More enterprises invest more in mines, and everyone looks forward to the development of aggregates industry. This is the start of transformation from Blue Ocean to Red Ocean. Under current situation of danger and opportunity coexisting, how to introduce risk management in the stage of project planning and how to deduce the future market changes require the attention of all aggregates enterprises.
Through communication and on-site investigation of aggregates enterprises, according to years of experience in the industry, combined with his own enterprise management practice, he analyzed the key elements of enterprise planning and construction, production management, innovation and upgrading, and business concepts, and put forward the ideas of how to build competitive aggregates enterprises that are able to remain invincible in the future competitive market. Chairman Li also presided over the global forum on high-quality development of aggregates (Section IV) and made a conclusion for the conference.
Aggregates Technology and Equipment Forum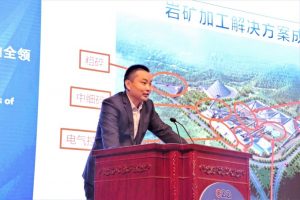 Zhao Bin, Vice Chief Engineer of NMS, delivered a speech entitled "scientific and technological innovation, overall solutions to green and efficient aggregates and mines in all fields" at the aggregates technology and equipment forum. He said that under the guidance of sustainable and rapid economic development policy, the aggregates industry has been developing with high quality for many years. In recent years, with the large-scale domestic aggregates and mines being put into operation, the processing technology, processing equipment, construction mode, product quality control and other fields of the aggregates industry have all made quality improvements due to quantity increase. The demand for high-quality aggregates products and the construction of green and efficient intelligent mines force the transformation and upgrading of traditional aggregates equipment suppliers.
NMS has been engaged in the aggregates equipment industry for 50 years. As a solution provider for rock and ore processing, NMS has complete sets of products, from primary, secondary and tertiary crushing, screening to shaping, sand making, electrical control, environmental protection and dust removal. All kinds of products of the enterprise are widely used, serving many well-known aggregates and metal mine projects home and abroad. NMS has also put forward corresponding solutions for new fields and new topics such as chips for making manufactured sand, sticky and wet material screening and metal and solid waste for making aggregates.
The sand-making equipment of NMS has a long history of application. Sand making equipment of NMS can be seen in water conservancy projects such as Three Gorges, Xiangjiaba, Baihetan and Xiluodu, and nuclear power projects such as Lingao nuclear power plant, Tianwan nuclear power plant and Ningde nuclear power plant. In order to meet the market demand, NMS is constantly innovating and promoting the vertical shaft sand-making machines to be developed into large-scale and high-efficiency sand-making equipment. The VS2000 super large-scale vertical impact crusher developed by the enterprise has a shaping passing capacity of 1000t/h, and the one-time passing sand forming rate of VSD two-edge high-efficiency sand-making machine is more than 55%. In addition, NMS combined high-efficiency screening equipment with advanced sand-making equipment and launched an efficient sand-making system that can be customized according to the site processing conditions. This kind of sand-making tower has been applied in projects in Yunnan, Anhui and other places, and the stable operation of the system has won high praise from customers.
Awarding Ceremony in 2020 China Aggregates Association Annual Meeting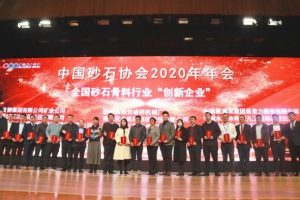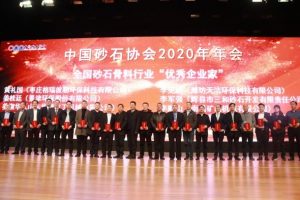 At the 2020 China Aggregates Association Annual Meeting, NMS was awarded as "Innovative Enterprise", "Excellent Enterprise", "Advanced Unit of Enterprise Culture Construction", "Social Responsibility Award for Assistance in Epidemic" in the aggregates industry, and AAA Credit Enterprise in China aggregates industry. Li Shunshan, Chairman of NMS, was awarded the title of "Excellent Entrepreneur" and "Contribution Award for International Communication and Cooperation" in aggregates industry. Besides, NMS employees won the awards of "Excellent Professional Manager", "Excellent Engineer", "Excellent Worker" and " Double Top 10 Correspondents of Aggregates Weekly of China Mining News". They also won prizes in the 9th National Aggregates Industry Calligraphy, Painting Photography Exhibition.
NMS won many awards in this meeting, which fully demonstrates the industry's affirmation of NMS's scientific research and innovation ability, enterprise culture construction, enterprise responsibility and so on.
Since 2005, NMS has obtained nearly 100 patents of various kinds, and drafted or participated in the drafting, release and implementation of nearly 20 national and industrial standards. NMS always practices the values of "integrity, professionalism, innovation, enterprising, gratitude, responsibility, openness and cooperation", takes "do the right thing as a human" as our benchmark for judging things, and advocates the code of conduct of "conscience in mind, responsibility in behavior" and "if there is no result, ask for your own causes". NMS has actively responded to and carried out the targeted poverty alleviation actions of "enterprises helping villages". In recent years, the amount of donations and materials to help poor villages has reached nearly 800,000 yuan. During the epidemic period, NMS donated 1 million yuan to support Hubei and Jiangxi in fighting against the COVID-19, and actively donated protection materials to all parties, acting the social responsibilities of the enterprise.
In the next step, NMS will continue to focus on the vision of "quality benchmark of the industry, model of happiness enterprise, international well-known brand", continuously make voice and develop in all directions in the field of aggregates industry, contribute to the industry and society, and make progress and develop together with colleagues in the industry!
Splendid Moments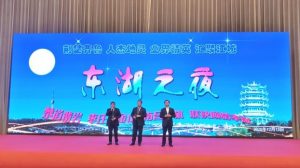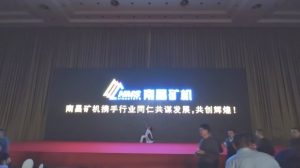 "Night at East Lake" Dinner Party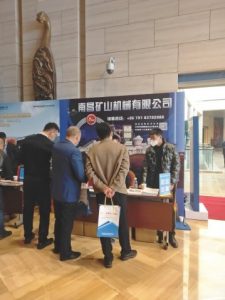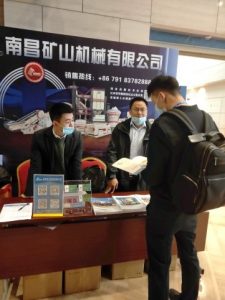 NMS booth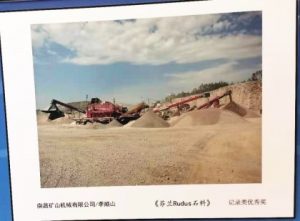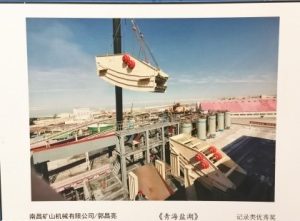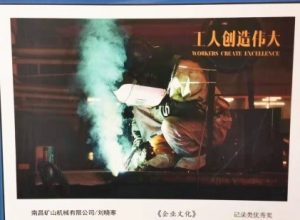 NMS photos won awards in the 9th National Aggregates Industry Calligraphy, Painting Photography Exhibition